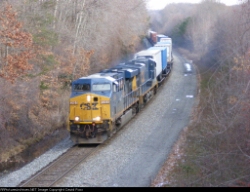 Welcome to the RRPictureArchives.NET contributor site of David Foxx.

After borrowing a digital camera and subsequently being bit by the railroad photography bug in October 2007, I invested in my first digital camera, a Fuji FinePix S700, and haven't looked back. I live in northeastern Maryland, which, as you can tell, allows me to easily slip into southeastern Pennsylvania and northern Delaware to expand my collection. Hopefully, you will find that my early pictures aren't bad for a photography neophyte. If you find any errors or can add any information, please let me know, as I strive to be as accurate as possible but, unfortunately, do not always have access to all of the facts. Enjoy!

You may browse my collection of pictures via the menu located on the left hand side of the page. I hope you enjoy the collection and thanks for stopping by!
Note: This site is best viewed in Internet Explorer 6.0 or above.
Select one of the links from the menu on the left to begin browsing the collection.